If there is one place here in the Philippines that is most visited by tourists all over the world, it would have to be Boracay. I couldn't blame them. The long stretch of white sand with blue-green waters sitting serenely in the background is a sight to behold, truly bewitching.
Simply put, our trip to Boracay is one traveler's dream come true.
Before I'll indulge you with pictures, allow me to give a brief background why Boracay came within our reach.
Truth be told that we have been
given
blessed with more opportunities to travel because of
Toastmasters
. Countries and different regions all over the world are divided into districts. The Philippines is District 75. Every year, the district holds two national conventions-- the District Convention, happening every last week of April, and the Midyear convention-- during October.
This year's Midyear convention was held in the captivating island of Boracay, particularly at La Carmela de Boracay. Initially, we were hesitant to join because of budget constraints. But it seemed that the stars have aligned and we were able to get promo fares a few weeks before the convention date. Plus, we were able to save a night's stay courtesy of VECO TMC. We couldn't be any luckier!
How to get there:
There are direct flights from Cebu to Caticlan (as well as Manila-Caticlan) via Cebu Pacific. Subscribe to their sale alert newsletter to get a heads up on the promo fares. I noticed however that the email notification is not in real time, so if you are keen on really getting a good deal on the plane fare, better check their website regularly, and by regularly, I mean at least twice a week.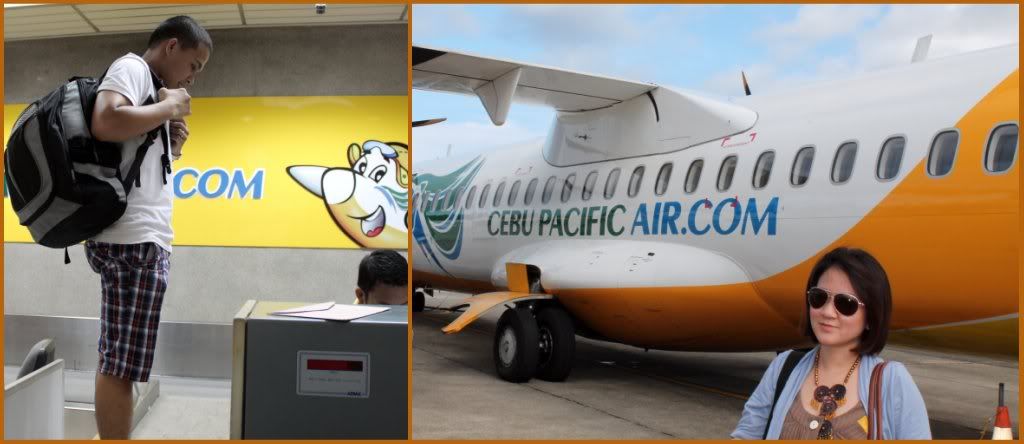 The flight is approximately an hour only. I was a bit surprised when we reached Caticlan airport. Its the shortest runway I have seen so far. If the pilot miscalculates his landing, for sure the plane will extend to the fields surrounding the runway.

Upon reaching Boracay Airport, if there is no arranged van by your hotel to get to Caticlan jetty port, you may opt to ride the tricycle (motorcycle with side car). The moment you step out of the airport, turn right. At the end of that small alley is the tricycle lane. There is a little booth beside the sari-sari store where you can pay for both the tricycle fare (Php 25.00) and boat fare (Php 25.00). Once you reach Caticlan jetty port, there is another series of fees to pay: Environmental fee (Php 75.00) and terminal fee (Php 50.00). Roughly, that's Php 175.00. There are plenty of boat rides that will take you to the island, no need to worry.
Once in Boracay island, again there are plenty of tricycles that can take you to your hotel/resort. The pakyaw rate is Php 100 for Stations 2 or 3. I don't know for Station 1 though. The cheapskate that I am, opted not to take the pakyaw rate but rather joined strangers in going to our destination. We only paid Php 20.00/person. We were dropped off at the national highway nearest to La Carmela de Boracay. We had to take a 5-min walk in going to the resort. Now that's the price to pay for not taking the pakyaw rate. Haha.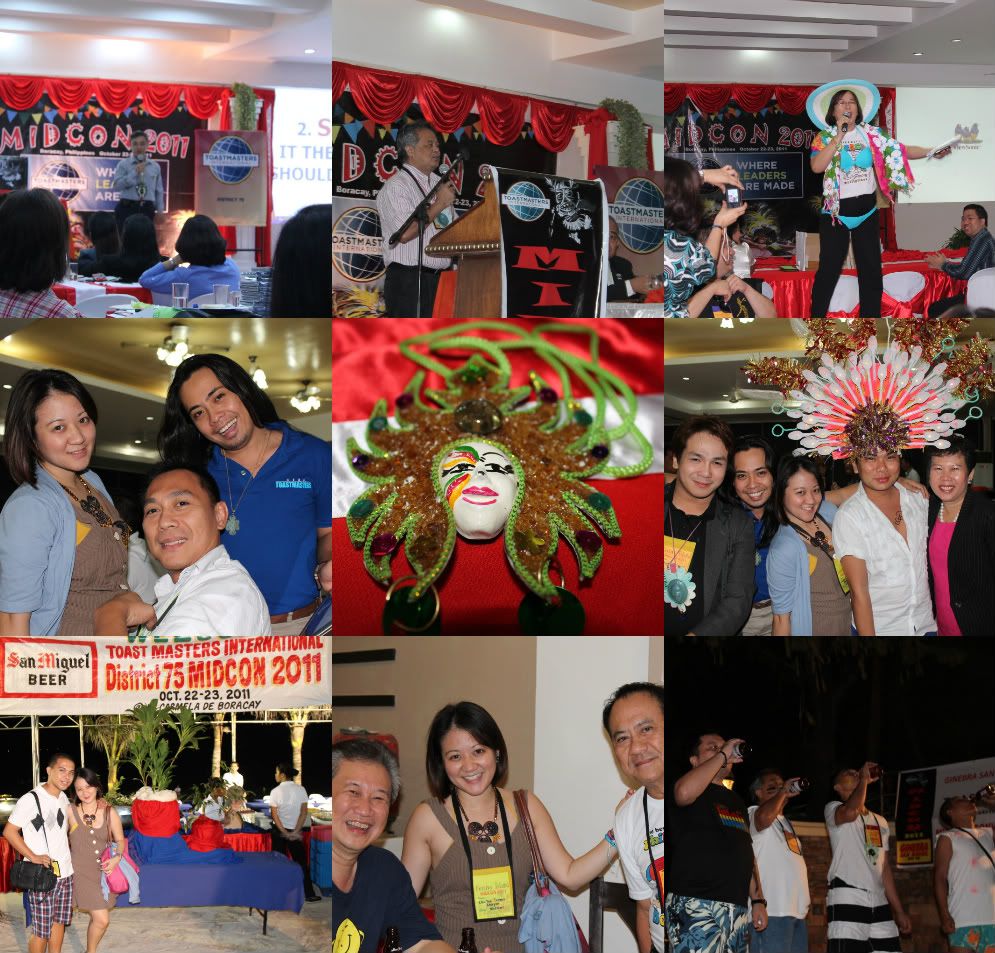 My boss, PDG Nolie Espina (2nd photo, top row) is running for International Director.
Calling all D75, let's pledge our support, shall we?
No convention can be had without a beer-drinking contest. Teehee! :)
All hats are off to the creative "sexy" ladies. This is one of the things I love about Toastmasters.
Raw talents and creativity are being displayed.
Congratulations to the winners of the Speech to Evaluate Contest.
Didn't you notice, all winners are girls? Hhhmm.. Girl power at its best! Yay!
I can't help but notice the spooky atmosphere of the resort with their Halloween decorations. These three caught our attention (and the camera's attention as well. Lol.)
All other resorts absorbed the Halloween feel.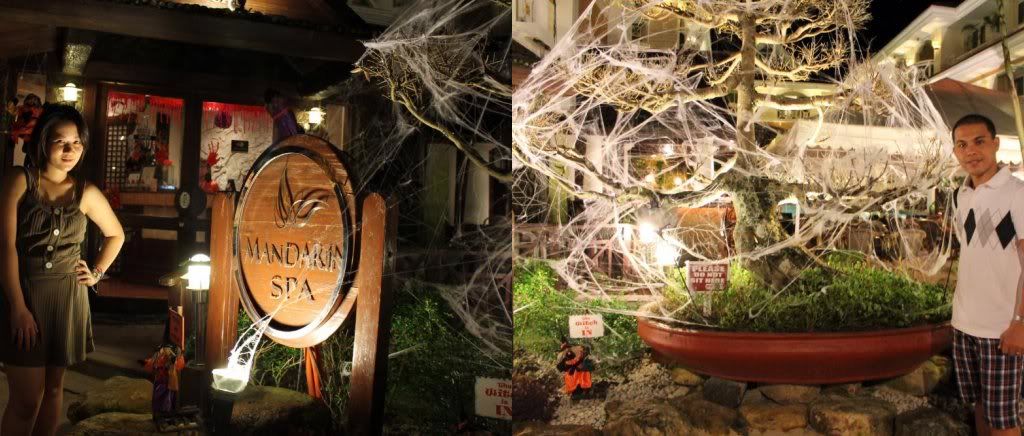 While the rest of the Toastmasters were having dinner and preparing for the fellowship, we (the husband & I) took a quiet stroll along the beach. It's my first time in Boracay, while it's his second. The excitement brought in a new brand of energy for me.
Speaking of energy, the whole island transforms into a party paradise bursting with energetic vibes spelling only one word: F-U-N!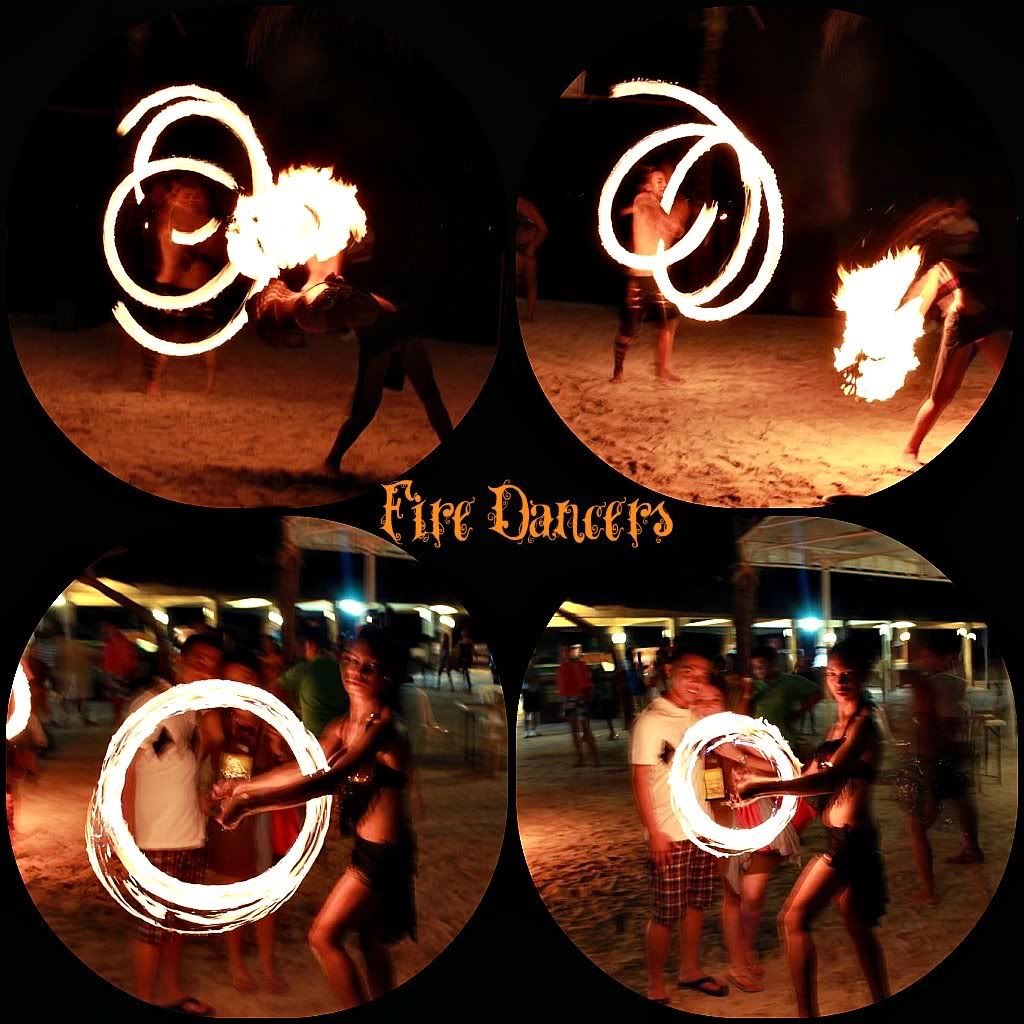 A must-see. They perform every night along the beach. This one was taken at Station 3.
One brave soul!

I chose to keep distance from the fire dancers, bearing in mind Murphy's law. Hehe.
The Midyear Convention was scheduled for a day and a half only. Since chances like these don't come very often, we took the liberty of extending our stay in Boracay. After staying one night at La Carmela de Boracay (Station 2), we transferred to Casa Pilar Resort (Station 3)-- a few minutes walk from La Carmela.
This post is getting long and there are still pics worthy to be posted. So I have to cut my Boracay post into parts. For the meantime, I will leave you with this pic. Breathtaking, isn't it?