We had our (1st) wedding anniversary celebration in Baguio. It was the perfect time of the year to have a romantic getaway there. The cold weather stood as a perfect backdrop.
We booked a flight from Cebu-Clark and since it was a promo fare (translation: flights at ungodly hours), we had to stay one night in Clark. We decided to stay at Hotel V, booked through
Agoda
.
I love the play of colors and the geometric lines.
It was in Clark where I discovered I made a major boo-boo-- I left my contact lens holder and solution! Yes, I slept with my contacts on-- truly not the best thing to do but I have no choice. The OC in me was off-duty. So our first stop in Baguio was
SM BAGUIO
, which by the way, is not air-conditioned. It's like one big al fresco mall. And it was Christmas-y all over!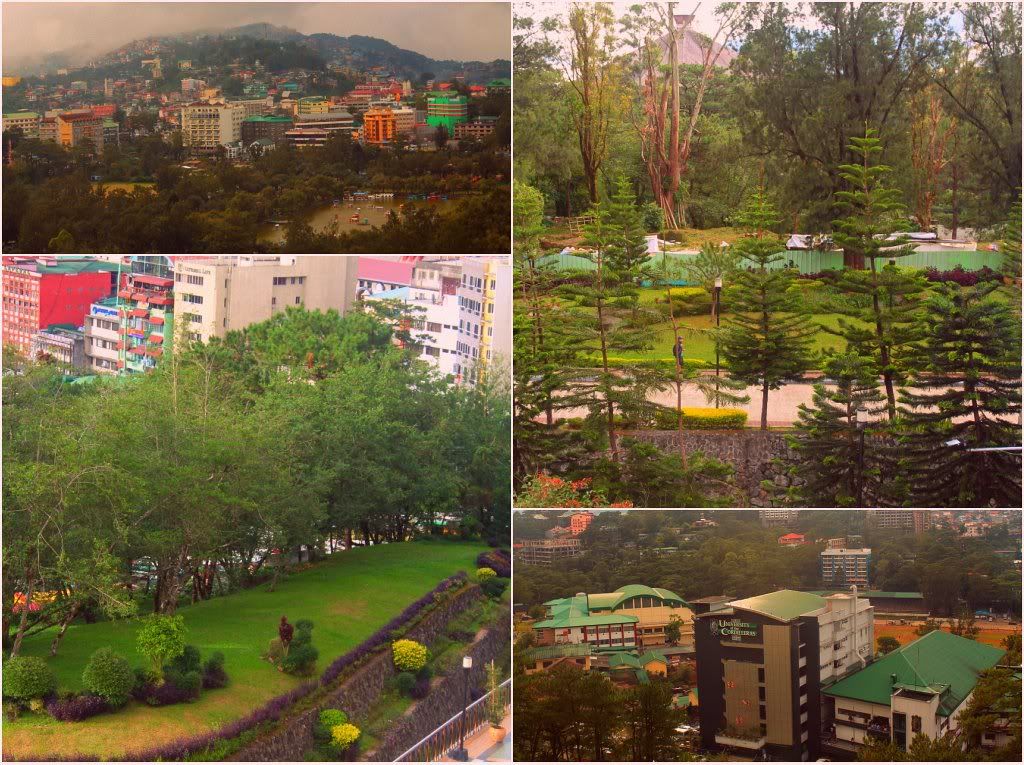 Sights of Baguio from SM Baguio view deck
This is my second time in Baguio, my husband's first. It was not this crowded (or populated) before. But I guess a lot fell in love with Baguio (like I did). Houses and residences have mushroomed.
Mountain-ful homes
Then we headed off to
BURNHAM PARK
and did what any normal Baguio visitor/tourist would do.
It's official-- my husband has become a full-fledged camwhore. Haha.
OUR LADY OF ATONEMENT CATHEDRAL
aka the Pink Cathedral.
Cafe by the Ruins
to have dinner. It was quite a long walk but cool breeze made it an easy one. The moment we reached
SESSION ROAD
, we were greeted by Christmas carols playing loudly throughout the whole stretch of Baguio's commercial area.
PNKY
. Actually, it was getting really cold that we just wanted to
snuggle-cuddle
the night away. Lol.
We woke up early the following day to have a fresh morning start at
LA TRINIDAD STRAWBERRY FARM
in Benguet. We took a jeepney from Baguio's City Hall. It was a 30-minute ride to the farm.
manong
who gladly took our pictures.
pasalubong
stalls selling all sorts of products from Baguio. But we opted to buy in the central market to get a better deal of the prices.
TAM-AWAN VILLAGE
. This time we took a cab as there are very few--close to none, jeepneys that go there. It is situated about 5km from the city proper. The fog was starting to build up when we reached the place.
A visit to Tam-awan would give you a glimpse on the life and culture of the Ifugaos. There are authentic Ifugao huts, paintings of local artists in their art gallery and a coffee shop.
We headed down to get a better view of the abandoned mines of the Ibaloi community and we saw this cute canine fellow near the entrance.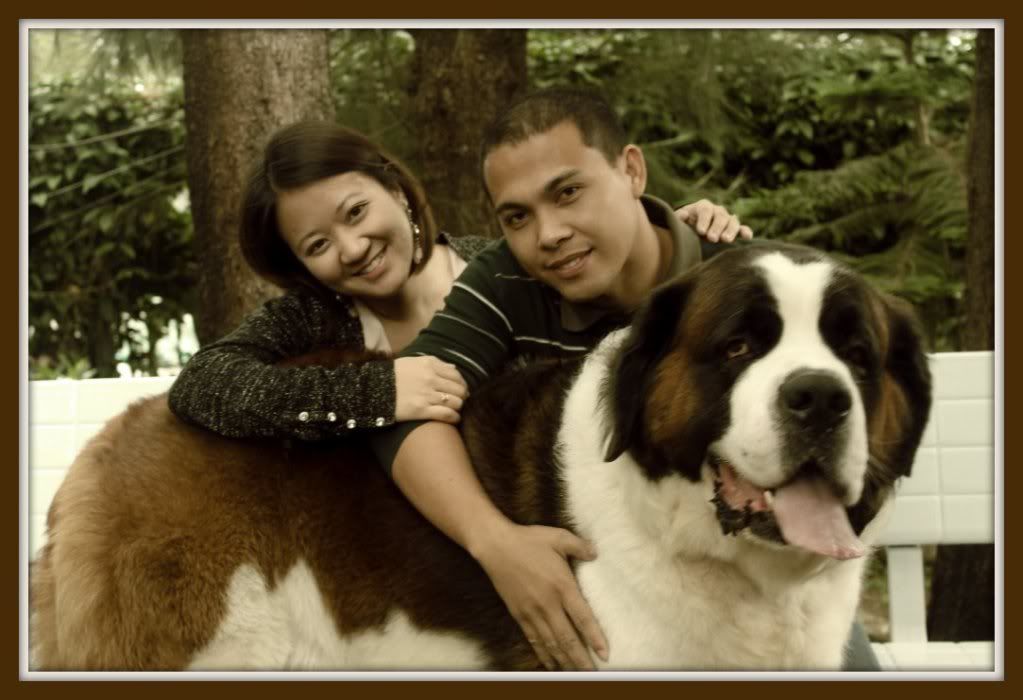 Beethoven?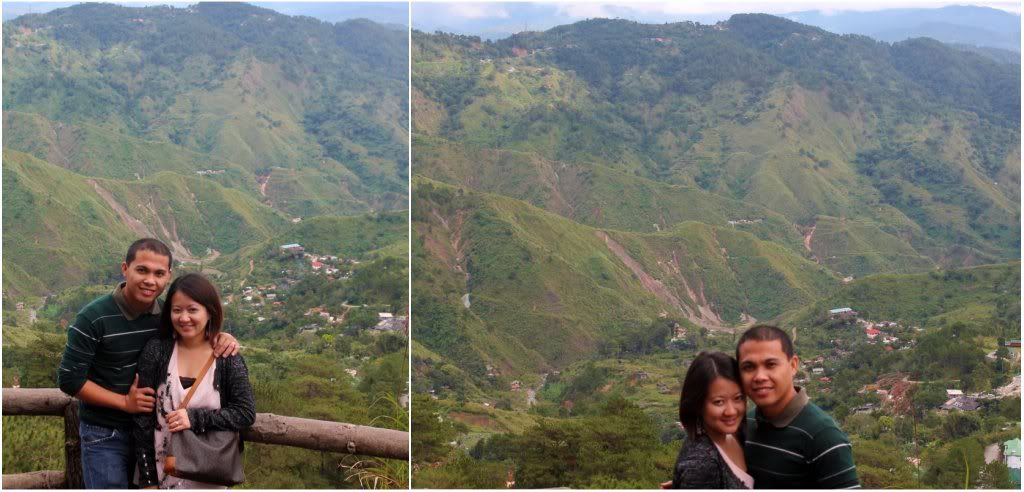 Where have all the tourists gone? Haha.
At the foot of the park, one can go horse-back riding. This attraction has become so commercialized that the rates have remarkably increased. We paid a total of Php 600 for a 30-minute ride-- Php 200/horse and Php 200 for the guide.
I didn't exactly enjoy my ride since we traversed on the road rather than on the horse track inside the park. Every time a vehicle would pass by, my horse would attempt to gallop causing me to hold on to dear life. I was careful not to pull the ropes so tight as it might strangle my horse. When I alighted from the horse, my legs were literally shaking. That was the longest 30-mins of my life. Haha. Hence, no picture of me on the horse. My husband on the other hand was lucky to have a very well-behaved horse. He enjoyed it so much.
To be candid, they caught me by surprise. I did not intend to have my picture taken with them. I only wanted to have a picture with the Botanical Garden engravings behind me. Next thing I knew, faster than the shutter speed of our camera, they were already beside me and doing the Korean pose at that! I had no choice but to oblige. I likewise had no choice but to shell out 100 bucks for their fee. Oh well... my husband and I decided to call it day and took a good rest in the garden. We stayed there until it was nearing dusk.